I'm pretty indifferent about Christmas, and the rest of the holidays. I mean I like them and all, but if we didn't have it, I don't think I would be too upset about it. Christmas music has been on the radio since the day after Thanksgiving. I made it a point not to listen to it until today. There's no reason for it.
We also decided this year that we weren't going to get a tree. We get a real one every year, if I'm going to do it, I'm going to do it right. But with the amount of hours that we are both putting in, we wouldn't have any time to enjoy it.
We're also in a very tight situation financially (who isn't)...and so we decided that we weren't going to be exchanging gifts this year, especially since my birthday is next Monday. Well, my husband decided to go out and buy me a laptop for a Chanukah present, I could kill him!! So once he did that, I knew that I was definitely going to have to get him something. I have my own personal savings account that he doesn't know about, and I had been saving up my extra money for the holidays. I started buying presents a few weeks ago, and I also bought a pre-lit little 3' tree. I knew the only way I would be able to do this without ruining the surprise was to do it tonight, Christmas Eve. I know I would never be able to wake up in the middle of the night to set everything up. So while he was playing video games, this is what I did:


I set up everything on the table, and then had him cover his eyes when he came into the room. I can't believe I pulled off a surprise!
Here's some pictures of what he got:

Hugo Boss Selection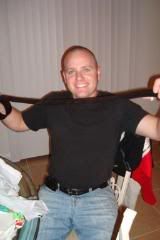 A black Fossil belt

A Norelco electric shaver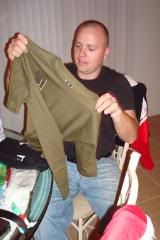 Tshirt #1

Tshirt #2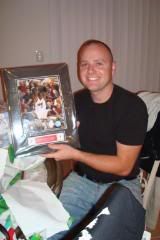 A picture of Dwyane Wade

A "street sign" that says Dwyane Wade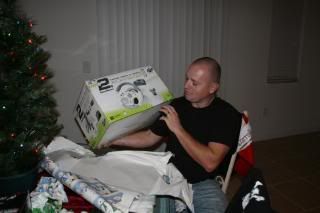 A steering wheel for all the car racing games on his XBox 360 (last years Christmas present)

I want to wish everyone a very Merry Christmas. Be safe.